RUSH HOUR ON & ON WEEKENDER
Trouw Amsterdam
23 Nov 2013
Sadar Bahar (Soul in the Hole, Chicago), Tom Trago (Voyage Direct, Rush Hour, Amsterdam), Antal (Rush Hour, Amsterdam), Ron Morelli (L.I.E.S., New York), Svengalighost (L.I.E.S., Chicago), Marcos Cabral (L.I.E.S., Runaway, New York), Terekke (L.I.E.S., New York), Kyle Hall & Jay Daniel (Fundamentals, Detroit), Traxx (Nation, L.I.E.S, Chicago), Young Marco (ESP Institute, Amsterdam), Interstellar Funk (Voyage Direct, Amsterdam), Elias Mazian (Barre Tijden, Amsterdam)
https://www.facebook.com/events/1421771151371586/
Read More
We have just published our own magazine! The first volume is out now! Incl. interviews with Charles Manier, Willie Burns, Tom Trago, Xosar & The Burrel Brothers. You can pick up your FREE copy via the Rush Hour store or order it online…http://www.rushhour.nl/store_detailed.php?item=73227
Read More
During Amsterdam Dance Event  Rush Hour will organize several in stores parties with guests such as NY label L.I.E.S., Chez Damier, FunkinEven, Hunee, San Proper and others. All the shows will start at 18:00 in the Rush Hour store on Spuistraat 98.
If you happen to be near, swing by….
Otherwise it will be broadcasted live via http://www.ustream.tv/channel/rushhourrecords
Wed 16th Oct Instore w/ FunkinEven & San Proper
Thu 17th Oct Instore w/ Hunee, Inkswel & Kid Sublime
Fri 18th Oct L.I.E.S. takeover!
Sat 19th Oct w/ Chez Damier and Maxi Mill
---
For more info check: https://www.facebook.com/pages/Rush-Hour/254587075064
Read More
SA23NOV / Trouw Amsterdam
RUSH HOUR ON & ON WEEKENDER
All Night, All Day and All Night Long
Sadar Bahar (Soul in the Hole, Chicago)
Tom Trago (Voyage Direct, Rush Hour, Amsterdam)
Antal (Rush Hour, Amsterdam)
DE VERDIEPING
L.I.E.S.
Ron Morelli (L.I.E.S., New York)
Svengalighost LIVE (L.I.E.S., Chicago)
Marcos Cabral (L.I.E.S., Runaway, New York)
Terekke (L.I.E.S., New York)
€8 before midnight
SU24NOV
TROUW OP ZONDAG – RUSH HOUR ON & ON WEEKENDER
All Night, All Day and All Night Long
Kyle Hall & Jay Daniel back-to-back (Fundamentals, Detroit)
Traxx (Nation, L.I.E.S, Chicago)
Young Marco (ESP Institute, Amsterdam)
Interstellar Funk (Voyage Direct, Amsterdam)
Elias Mazian (Barre Tijden, Amsterdam)
€8 before 12.00 (valid from 08:00 – 12:00)
Read More
Here we go! Tom Trago "True Friends" video from his forthcoming album The Light Fantastic, now online at VEVO…feat San Proper and Breach..
Read More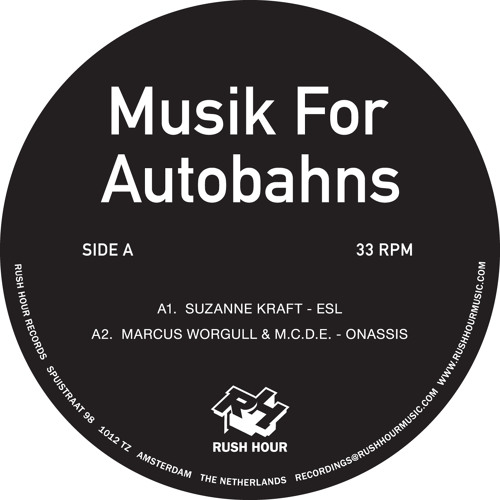 More tracks selected by the Running Back head honcho, Gerd Janson, for our continuing Music For Autobahns series. This 12″ includes tracks previously only on the CD release plus some exclusives…varied and roadworthy electronics that can also be used in cycle lanes and footpaths…
We commissioned Gerd Janson for a collection that starts where previous compilations left off. While Computer Incarnations for World Peace (his compilations for Sonar Kollektiv) concentrated on tipsy new wave music done by jazz-funkers or neo disco-ists, Autobahns has an unintentionally strong leaning towards ambient not-ambient, kraut pleasers and codeine house, i.e. Industrial Ambient and Electrifying New Age. It's all new and exclusive material by people who have crossed paths with the compiler at one time or another.
This sometimes unlikely gathering is hopefully unified by its non-parochial view of dance- and living-room floors, ambient noise and its effectiveness as a soundtrack to long rides up and down the Autobahn.
Read More
Evolved… We can smell it in the air, we can feel it in the ear-drum. This is us…
Oh yes, we're still eager, hungry and on the hunt, but we've manifested, haven't we?
We see it everywhere, that passion for House and Techno and everything related… That groove, that spell, them girls and moves.
That love and devotion stands for culture. Our culture, and yes;
We took the liberty to call it Proper's Culture… for now,
then allow us to present PROPER'S CULT,
an indie record-label preserving the genre "Dusty House" which celebrates this vivid music-culture.
Henceforth… to set the tone… to get you in the mood… Proper's Cult & Rush Hour present a series of presents to embrace and emphasize this culture, before they'll drop the upcoming first release.
So…
Check this link for some outstanding ad-lib candid eye-candy of San Proper's track "Deja Vu", the last track of his album "Animal" released June last year.
Yes, it's the dawning of a new era…
Presented with pride: San Proper's "DEJA VU" by Irwin Barbe & Louise Hernandez.
Read More
.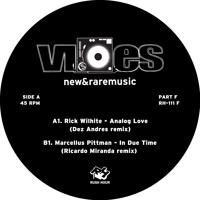 The last part of the Vibes New&Rare Music series from Rick Wilhite including two remixes.
The A-side is made by the Andres (La Vida, KDJ, Mahony) who already proved to be a great remix artist in the last years. This time Andres, also known from his big hit New For U, made a soulful dance track of the earlier released "Analog Love" from the Godson himself.
On the B-side Ricardo Miranda made a slow and dark techno remix of Pittman's "In Due Time" originally released on the first Vibes compilation 12".
Read More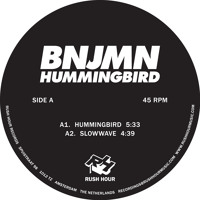 Artistic inspiration can come in many forms. On his latest 12" for Rush Hour – his third for the label since 2012 – BNJMN was inspired by one of the wonders of nature, namely the curious combination of speed and grace that is the humble hummingbird.
"I was really interested in how hummingbirds have much faster wing speeds to other birds, so they can hover and fly slowly," he explains. "This seemed to tie in with some ideas I'd been playing around with, to create tracks that are fast and accelerated, but could also sound slow."
"Hummingbird", the title track of an impressive four-track EP that's noticeably cleaner, crisper and sharper than his most recent outing for Rush Hour, 2012's Unknown 2, captures this idea perfectly. Propelled forwards by a lone, 140 BPM kick drum, its waves of crystalline synthesizers and picturesque melodies seem to gracefully hover above the stripped-back rhythm. It's intoxicating, exciting and calming in equal measure, whilst retaining BNJMN's usual dancefloor punch.
"At a club recently someone came up to me after I'd played "Hummingbird" and said he didn't realise how fast he was dancing till afterwards," BNJMN says. "I was really pleased with that, because I'm fascinated with how the energy and tempo of a track can feel different depending on the environment you're in, and how you're feeling."
He took the same approach with the EP's other original tracks. "Slow Wave", with its relentless sequenced arpeggio, tumbling melodies and sludgy groove, performs the same trick of the ear, thanks in no small part to clever combinations of fast and slow elements. The melancholic "CRVD", with its mournful chords and darting, techno-influenced grooves, is similarly schizophrenic.
The EP concludes with its most straightforward dancefloor moment, an inspired remix from Xamiga (AKA Xosar and Legowelt). Decidedly cosmic – like layered, melody-driven analogue techno beamed down from a distant galaxy – it delivers a deeper, hazier alternative to BNJMN's pin-sharp original.
Read More
Tom Trago's new 12″, the album sampler to the upcoming album The Light Fantastic. Featuring the dancefloor stomper "Two Together" which was co-produced by Steffi, "True Friends" featuring Breach on the vocals and the non-album track "Avenido".
Tom Trago is back, giddily dancing out of the studio into the dizzying light of a European summer. Tucked under his arm are the masters for his third album, The Light Fantastic. Since his most recent appearance on Rush Hour last autumn, Trago has spent most of his time in the studio. Over four memorable months, he constantly jammed, recorded, tweaked and produced tracks, until he had enough strong material to put together what might just be his best full-length to date. Along the way, he was joined by an impressive guest list of guests and collaborators from Amsterdam and beyond, all of who were roped in after "popping into the studio to hang out".
You'll have to wait to hear the album, but the good news is that there's an enticing teaser of what's to come in the shape of this formidable three-track taster. One of the tracks, the chiming, loose-limbed, bass-heavy workout "Avenido", is exclusive to this 12". When he sat down to make The Light Fantastic, Trago was keen to recapture the essence of his early work, and particularly the melodic warmth, kaleidoscopic chords and robust grooves that characterized his 2009 debut album, Voyage Direct. This time, though, he wanted to rely less on samples and apply the lessons learnt from four years of largely acclaimed production work. As a result, The Light Fantastic oozes a gleeful sense of fun, whilst retaining the depth and definition that has always been a hallmark of Trago's work.
The two album tracks featured on this sampler confirm the rich dividends that this new approach brought. "True Friends", featuring the combined talents of Brit-in-Amsterdam Ben Westbeech and local hero San Proper, bristles with loved-up positivity, all bubbling electronic melodies, fuzzy vocoder vocals and jaunty, bottom-end bounce. Then there's the small matter of "Two Together", an extra large helping of the kind of loopy, feel-good deep house funk with which he made his name. Expertly teased, tweaked and produced, it sees nagging hooks, darting synths, jazz keys and disco stabs riding a relentless, full-throttle groove. Co-produced with Berlin-based Dutch producer Steffi, it's nothing less than a wide-eyed late night rush. If it doesn't have you tripping The Light Fantastic, nothing will.
Read More
After his debut 12inch on Werkdiscs comes Moiré's new 3-track 12″ on Rush Hour.
In February, ears were picked by the debut release from Moire, a mysterious producer hiding behind hypnotic visuals and a well-groomed cloak of anonymity. Now he's ready to show his hand further with this second release, a three-track EP of what he proudly calls "London techno".
You see, London means a lot to the man behind the Moire mask. While not a native Londoner, he is proud to call the city home. From the dazzling lights of the West End to the grey housing estates of East London, Moire has immersed himself in the city. You may spot him lurking in dimly lit basement spaces, documenting urban decay in Canning Town, admiring the city's eclectic architecture or contemplating the ongoing gentrification of Brixton. That is, of course, if you can identify him.
"London," he says matter-of-factly, "is so raw, yet so full of soul". It's a theme that he keeps returning to, and an aesthetic that sums up the City's musical output. You can feel it in his new EP for Rush Hour, too, from the clattering, Tube-inspired rhythms and heart-aching chords of "Rolx" – a kind of West-East journey through subterranean London – to the intoxicating after-party pulse of "Don't Get It", where the city's insomniacs gather to raise themselves to the rhythm one more time. Then there's the tumbling, discordant chords, carefree melodies and intense rhythms of "Real Special", a celebration of life on the city's musical fringes.
This is Moire in a nutshell. There's much more to the man – we've barely touched on his visual inspirations, and his love of the chaotic simplicity of moiré lines and patterns – but he'd rather leave it to the imagination. Not because of some high-minded desire to protect his anonymity at all costs (naturally, many are curious thanks to the runaway success of his "No Sleep" EP on Werkdiscs), or to simply keep us all guessing, but because it doesn't matter. After all, it's the music that matters.
Pre-order & more info:
www.rushhour.nl/store_detailed.php?item=70044
Read More